We provide you an experienced instructor who will teach you the basics of climbing. Ostaš is ideal for teaching beginners.

We provide you a balloon trip over Broumov walls. You can enjoy the enchanting landscape from the air.

Horse riding through the local landscape will leave you indelible impressions. We provide individual and group rides.

The local landscape is full of lakes and fishing opportunities. We get your fishing license, you just need a fishing rod.

Písková rokle a Slavenské vodopády. Venture into the rocks with an experienced guide off the hiking trail.

Handmade wicker basket production. Visit private workshop and learn how to weave baskets, Easter sticks, Easter hats.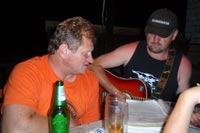 Guitar Evenings
Guitar evenings have become our tavern tradition. Inverted Crocodile band will play and sing everything from folk songs to the big-beat. If you want to play yourself, do not hesitate, Fridays and Saturdays are here for you.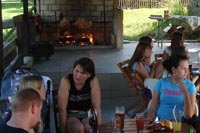 Barbecue Party
There is a barbecue area with a fireplace on the terrace, where you can ogrilovat leg or plain sausages. On request we can provide live or recorded music that will set your mood or even dance!
Poslední akce: Starci na chmelu - společné hraní starých a mladých
About Us
U Doležalů Inn is located in Broumov hook, in a protected area Broumovsko. It is a land of magical beauty, which is one of the most visited areas not only in northeastern Bohemia, but also in the Czech Republic.
READ MORE